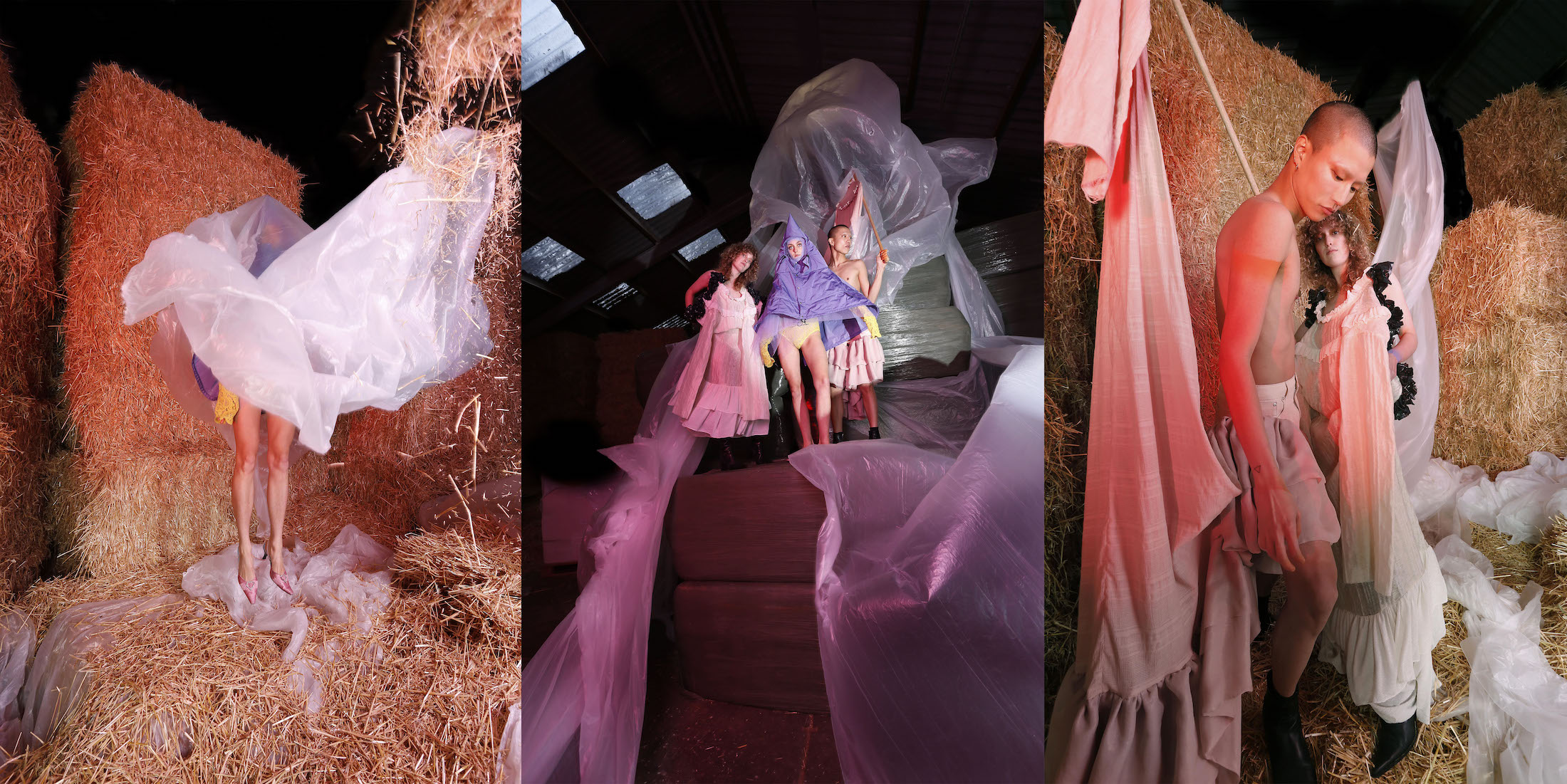 UNLOCK, BECOMING
There is a place where girls and boys, with each passing year, grow more serious and more dull. Among the grey confines of their grey, grey buildings and their grey, grey offices, they get increasingly engulfed in a sea of responsibilities, labels, expectations, judgements and social restrictions. What once were monsters under their beds became monsters under their desks, monsters waiting with them at the bus stop, monsters behind them in the queue for the ATM, sulking and brooding all around them.
One day, a peculiar few decided to leave this fate behind to seek a better fortune. They packed their trunks with their most precious and their most curious belongings, onwards to a journey to discover an alternative way of living, an alternative way of being. Hopeful and ambitious, they start to walk, to trudge, to plod far, far away from the greyness and the dullness. So far, so wide, they even wander all the way to the other end of time. Through many a marsh, through many a field, resting among the hay bales, the thicket and the shrubbery.
During their pilgrimage, they are followed by an omnipresent looming darkness, reminding them of their former life. On their long winding path, they encounter an otherworldly spirit releasing them from all fears and entering them into a foolish dream state, enabling them to discover their layered, ultimate true self. Elevated by a sense of absolute confidence, the foolish dreamer with a fetish for mother nature arose.
With the guidance of their new, mystical friend, they are taught to wield the armour of their choice, to master it and use it with care and conscientiousness. They brandish their new found shields towards the threatening cloud of gloom, causing it to scarper frantically and frenziedly, startled to be so suddenly challenged. As it withdraws, the monsters of the mundane pull out their claws and instantly disappear.
In celebration of this victory, each individual has now the strength and the bravery to embrace their peculiarity and return to their prior existence. As they return to town, they jubilantly parade and march in front of the gazing grey townsfolk, who scratching their heads in astonishment, pondering over their own predicament.
SHOWNOTES
SHAPE
Extra elongated silhouettes express a desire to reach for the gods and connect to ones 'higher spirit'.
Petticoat shapes, a combination of the historical and the hysterical, create more playful volume and reflect the inner child, dressing up.
Party hats help the silhouettes reach 'up to the gods', also used in unexpected places, are a key accessory to celebrate the newly acquired mind-set.
Constraining elements, which get progressively transparent and embraced throughout the collection, represent traces of the restrictions from the grey world that was left behind.
Awkward lengths and playful proportions bring attention to the established restrictions of everyday clothing - hems, cuffs and waistband heights are shifted, lengthened or shortened.
Outdoor wear references such as the raincoat and travel pillows are also mutated to create the attire of our modern pilgrims and are key element of our finishings and details.
MATERIALS
Plastics from outdoor wear offer protection from the elements, everything you could come across during the journey.
Natural and raw materials reveal a fetish for Mother Nature and a quest for pureness of self.
COLOURS
Natural, raw colours, such as beige, straw and light pink, communicate the back to nature aspect of the collection's concept.
Vibrant colours - lime green, lilac and magenta - mirror the inner child, dressing up, screaming and showing off.
PRINT
Floral camouflage print, blurred to reflect a dream state, a remnant of the pilgrimage.
Shapes, use of colour and material develops throughout the narrative of the collection: leaving behind the grey world to reach the ultimate dream state and returning with a new mind-set.
The show, presented as a parade and performed as a total experience for the audience, portrays the final chapter of the narrative: the return from the journey. This homecoming triggers emotions of celebration, enlightenment and enchantment, also captured by an inclusive cast of peculiar characters. The model casting, composed by family, friends and schoolmates of the Collectie Arnhem 2019 class, illustrates a personal celebration of diversity.
COLLECTIE ARNHEM
20 third year fashion students from ArtEZ University of the Arts present the twentieth year of 'Collectie Arnhem'. Next to designing and presenting the collection, they gain experience within all facets of the fashion industry. Collectie Arnhem 2019 will be shown on 30 January in Loods6 in Amsterdam.
DESIGNERS
Aliet Moes | Benji Nijenhuis | Charlotte Buchal | Danny Feng | Dilara Astam | Eungyeoung Lee | Floor van Helmond | Frederieke Broekgaarden | Gijs Woletz | Gönül Yigit | Iris van Rens | Iris Röell | Lisa Koops | Max Lanting | Iris Ebel | Remi Strikkers | Silvy ten Broeke | Nemo Cheminée | Nina Perino | Elodie Cazier
SPONSORS
Collectie Arnhem 2019 is made possible by her sponsors:
ArtEZ University of the Arts | Made in Arnhem | Artis - Design and Fashion Group | Bouthentique | Zijlstra naaimachines
CAMPAIGN
The campaign of Collectie Arnhem 2019 was shot by Louise te Poele. For additional information and high resolution imagery, please contact fashiondesign@ArtEZ.nl
AVAILABILITY COLLECTION
After the ending of the show, the collection will be available for publication purposes. For inquiries, please contact fashiondesign@ArtEZ.nl
Collectie Arnhem 2019 will be shown once again at the ArtEZ Graduation Show in June.