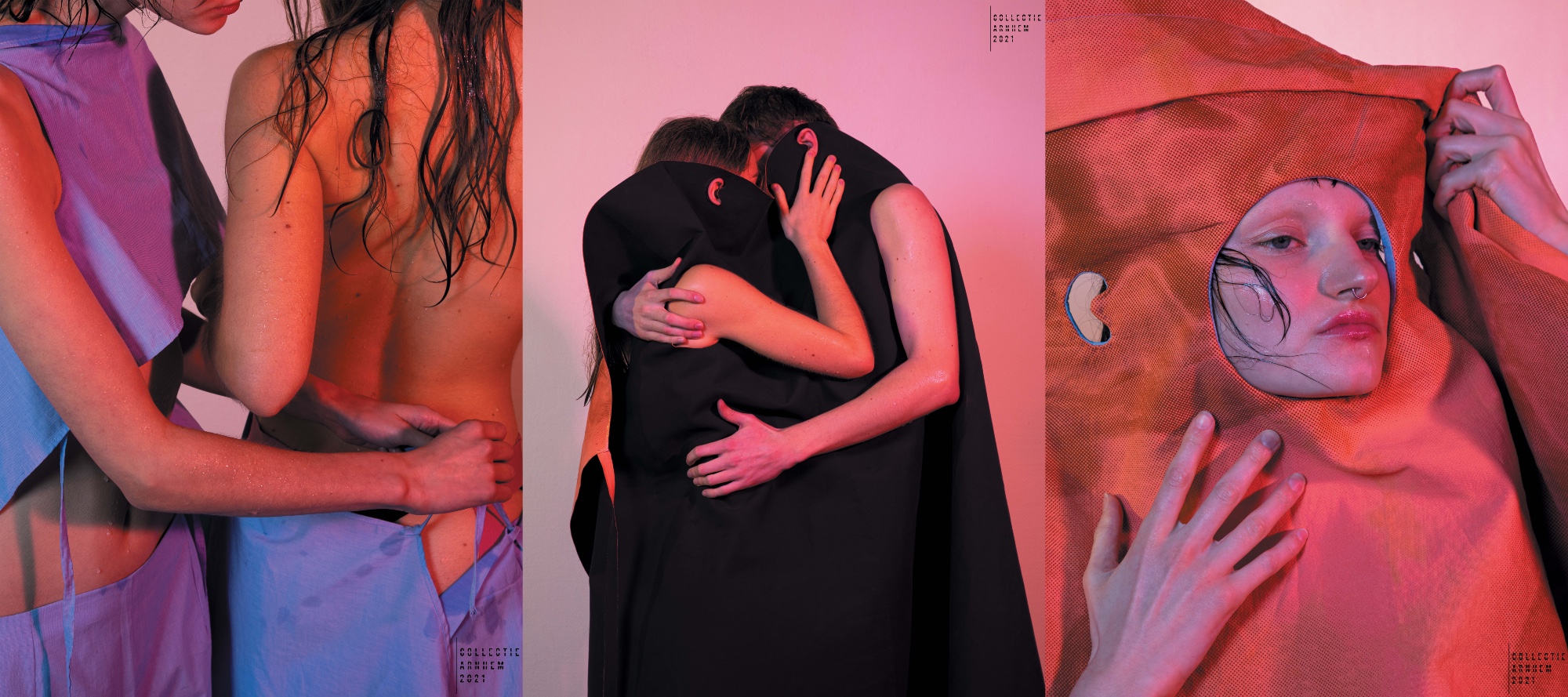 DROP THE PIN
The DROP THE PIN collection is a reflection on today's reality. We are aware of our physical interactions, personal space, and the innate longing for human connection. This awareness shapes the basis for a world of our own creation. Human energy drives this world. It determines our direction of motion as well as the color, light, and shadows of our physical contours. This energy is invisible, yet it shapes our existence. We crave it, and we retreat from it.
We challenged ourselves to work with deadstock garments and textiles. Arnhem based brand HUMANOID gave us the opportunity to do so, as a collaborative partner that has a direct link to the fashion industry. They share their experiences and values with us, as well as providing the deadstock material that we re-interpreted and developed into garments that take on a whole new life and meaning. Through the fundamental techniques of knotting, folding, and cutting, we have materialized the importance of connection into the openings, closures, and ties of our garments. The silkscreened prints are a visualization of human energy and its flow through the body, while fabric surfaces have been rendered matte and hardened through processes of indigo and curcuma dying, hand waxing with natural beeswax, and quilting. While re-purposing deadstock items we have deconstructed garments into their 2-dimensional form and reconstructed them into new 3-dimensional items, or conversely, turned 3-dimensional patterns into flat garments that are wearable in multiple ways. What resulted by following the design principles we set for ourselves is an intuitive alteration of archetypal garments in which human connection and interaction is both facilitated and challenged as a code of conduct for the community we have created.
The collection is developed under guidance of Rens de Waal, Lenn Cox, Rixt van der Tol and Katy Grieve. Additionally, we worked with spatial installation artist Dennis Vanderbroeck on the physical execution of our concept. For the final presentation, Dennis aided us in fully realizing the world we want to communicate to our audience. Drop the Pin is a gesture driven by human energy of how we connect through garments and an invitation into the community defined by these garments.
This collective experiment will be a testament to the universal importance of connection, community and collaboration. We invite you to join our world, a redesigned interpretation of togetherness where we create connections in a new state of spatial awareness. The afterlife of this collection will consist of sending the key garments to a few collaborators introduced into our world. This "loan" is a promise made to Collectie Arnhem, to use these items in any way the collaborators see fit, for example dressing someone else with it, while documenting it. The documented results will be the embodiment of the connections created through our garments.
Designers
Alin Paul Ciobanu | Charlotte Scheurwater | Cyra Bartholl | Daan Pouwels | Floris Minkenberg | Ilse Cats | Iris Bosker | Kirsten van de Belt | Leila Gordon | Luca Rata | Lucija Kejzar | Luna Wierdsma | Michelle Craig | Noortje Broens | Pablo Willemars | Philipp Obwaller | Shao Jun Woo | Tara Hollander | Vojta Lopour | Zora Hamers
Models
Sarjon Azouz | Kanea Blokland | Alin-Paul Ciobanu | Max Claassen | Jenske Ebenau | Daan Ferman | Kiki Gordon | Zora Hamers | Nina van Hulzen | Vojtěch Lopour | Philipp Obwaller | Luca Rață | Cesirhe Sedney | Ashley Isabel van de Wardt | Pablo Willemars
Art direction
Studio Dennis Vanderbroeck
Director of Photography
Daniel van Hauten
Gaffer and set lighting
Emiel Chung | Ymeja Klopman
Composer 
Enrico Meijer 
Editing
Daniel van Hauten
Hair and Make-Up
Floor Cattermole | Emily Kes
Location
Industriepark Kleefse Waard IPKW
Tutors
Rens de Waal | Lenn Cox | Rixt van der Tol | Katy Grieve 
Guest tutors
Dennis Vanderbroeck | Benjamin Aerts | Maria Janssen | Daan Berkhoff
Head of ArtEZ Fashion Design
Matthijs Boelee
Coordinator
Alieke Broekhuizen
Special thanks to
Humanoid | Sunanda Koning | Wendy Barten | Sjoerd van Ree | Thomas van den Bliek | Willy van Haren | Annita Hollander | Industriepark Kleefse Waard IPKW
Sponsors
ArtEZ University of the Arts | HUMANOID | Meester Koetsier